From July 20 to 23, 2023, it was co-sponsored by Southwest Technology Engineering Research Institute of China Ordnance Equipment Group, Extrusion Forming Technology Innovation Center of Complex Components of National Defense Science and Technology Industry, China Aeronautical Manufacturing Technology Research Institute and China Nuclear Power Research and Design Institute, etc. Jiangdong Machinery participated in the "2023 High-end equipment Advanced Forming Manufacturing Technology Collaborative Innovation Conference" held in Taiyuan, Shanxi. The theme of the conference is: precision forming collaborative innovation, sharing high-end equipment manufacturing results. The conference focused on the exchange and discussion of precision forming innovation achievements in aerospace, transportation equipment, Marine, rail transit and intelligent manufacturing equipment.
Jiangdong Machinery is the national specialized and special "little giant" enterprise, the national high-tech enterprise, the national intellectual property advantage enterprise, the vice chairman unit of the forging Machinery Branch of China Machine Tool Association and one of the first master enterprises of Chongqing equipment manufacturing chain, with "China Machinery industry excellent enterprise", "China Machinery industry the most competitive brand" and other honors.
As an important forging equipment manufacturer in China, Jiangdong Machinery is mainly engaged in forging equipment and lightweight forming technology. With digital design, electromechanical hydraulic green servo energy-saving control, high-precision servo motion control, multi-axis synchronous motion and leveling, high-speed heavy-duty precision control, remote control and diagnosis and automation flexible integrated control and other key core technologies, in the domestic leading level. Products are widely used in automotive, aerospace, national defense, new energy, rail transit, new materials, ships, petrochemical, home appliances and other fields.
Company chairman Zhang Peng and Party secretary, general manager Liu Xuefei led the team to attend. Liu Xuefei, secretary of the Party Committee and general manager, and Yang Jixiao, head of lightweight forming technology, respectively gave reports on Advanced Forming Equipment and Lightweight Technology and Lightweight Forming Technology and Equipment for Parts at the forum, which respectively introduced and demonstrated the progress Jiangdong Machinery has made in forging in recent years.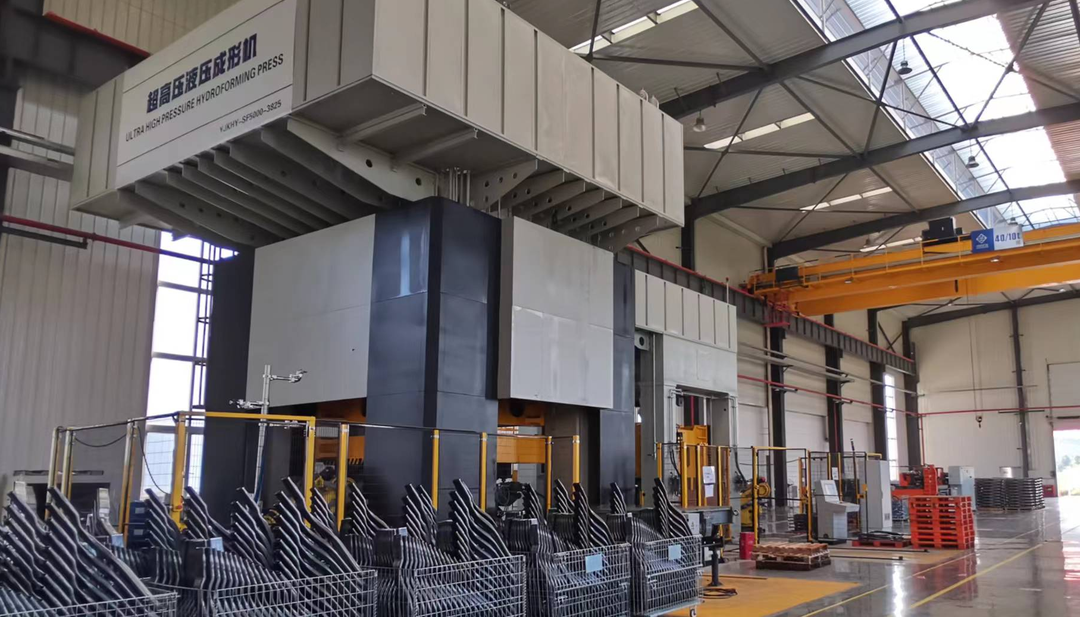 Ultra-high pressure hydroforming production line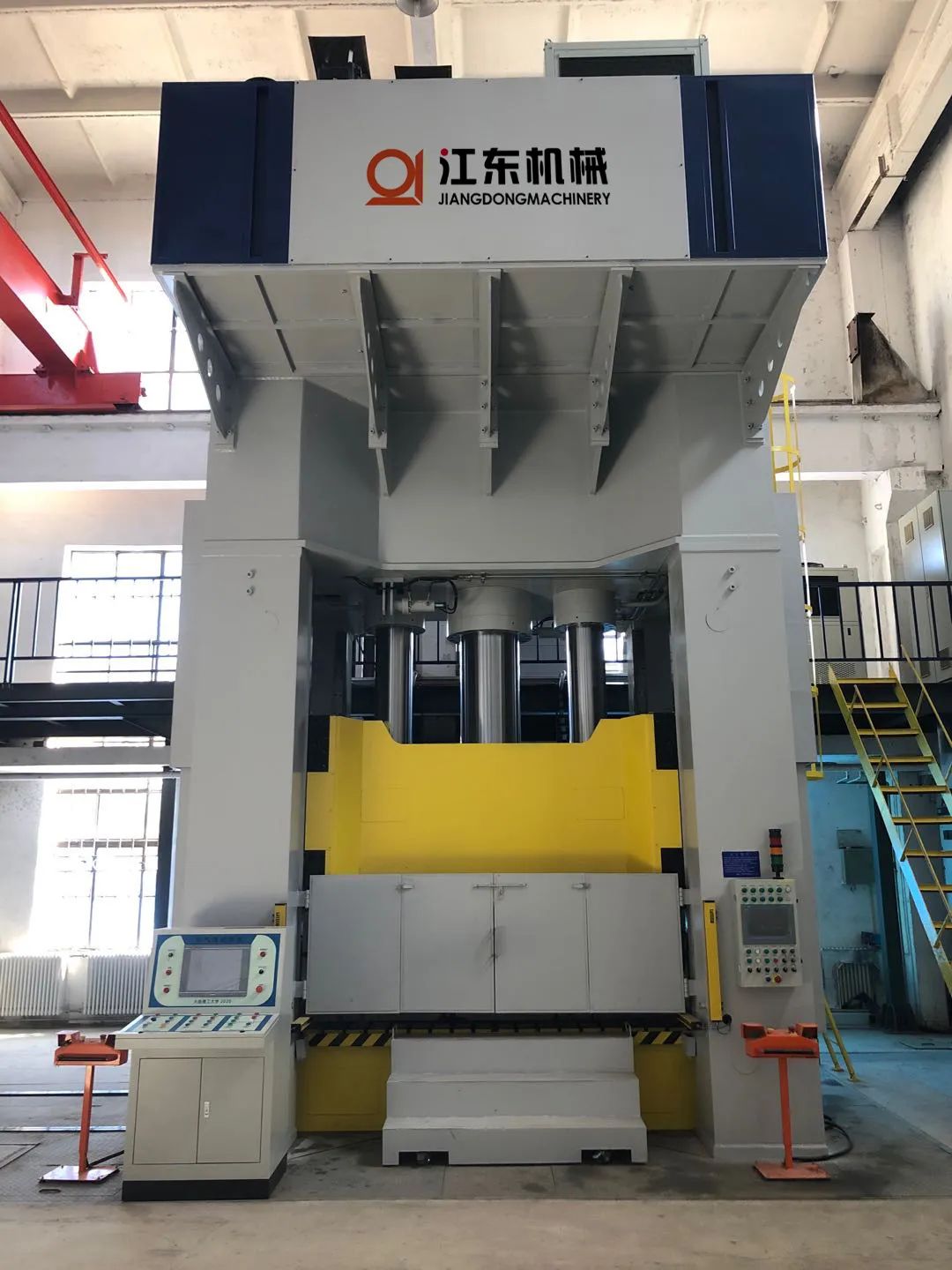 Hot gas expansion forming hydraulic press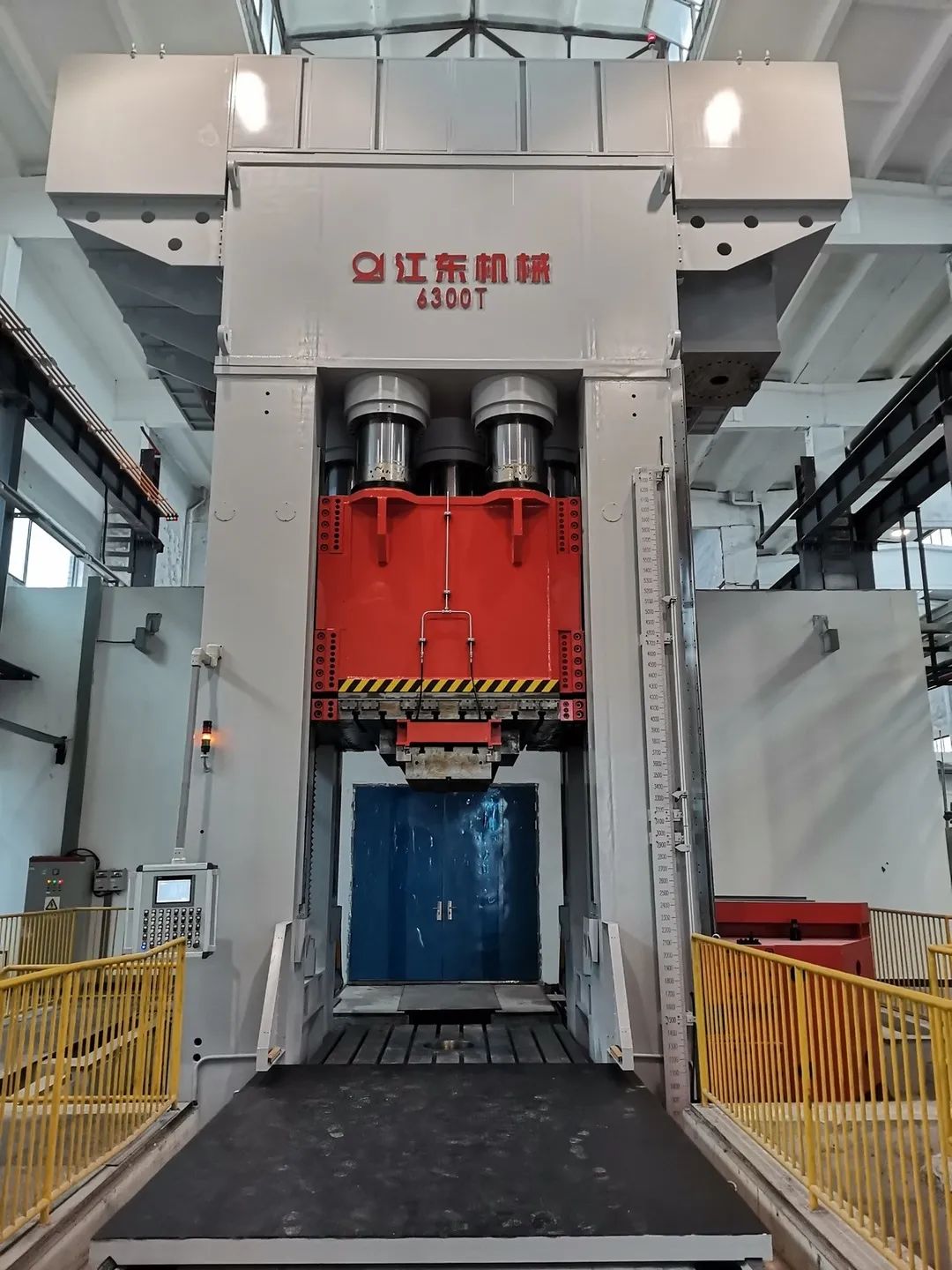 Isothermal forging hydraulic press production line for bullet housing
During the meeting, the main leaders of the company conducted extensive and in-depth exchanges with the participating scientific research units, universities and research institutes. The participants fully affirmed the advanced die forging equipment developed by Jiangdong Machinery in recent years, such as isothermal forging, superplastic forming and multi-station forming equipment, liquid filling and gas swelling forming equipment, ultra-long tube/cylinder extrusion/drawing forming equipment, powder forming equipment such as drug column and fiber composite molding equipment. They have expressed their willingness to carry out in-depth cooperation with Jiangdong Machinery in the field of forming process, forming equipment and forming technology in the future, and continue to promote the development of forming equipment and technology in the fields of aerospace, national defense and military industry in China.
---
Post time: Jul-27-2023