Basic Info:
Model No.: YJ61M series
Type: Frame Type Hydraulic Press
Feature: Automation, Precision, High Efficiency
Certification: ISO9001; CE
Condition: New
Customized: Customized
Warranty: 24 Months
Additional Info
Productivity: 5 Sets/Month
Brand: Jiangdong
Place of Origin: China
Supply Ability: 5 Sets/Month
Product Description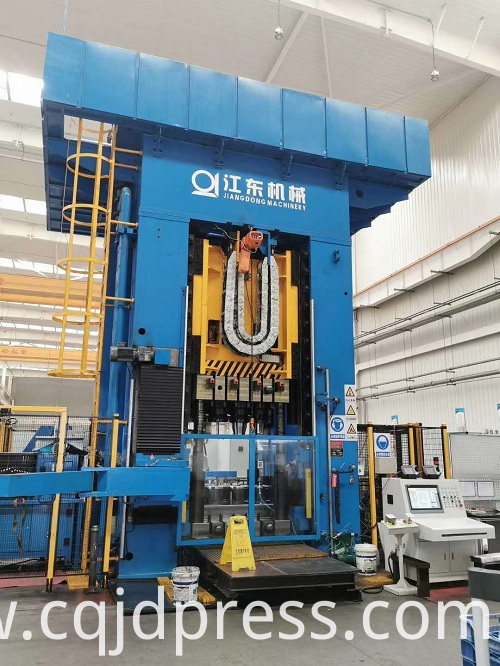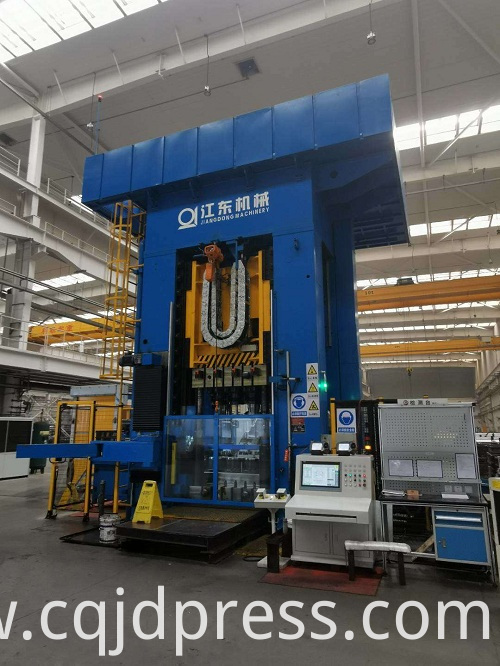 Performance Characteristics:
Mainly applicable to the Cold Extrusion Forming process of metal shaft parts, multiple processes (usually 3-4-5 processes) in the same Hydraulic Extrusion Machine at different stations to complete a pressing, hydraulic machine on the transfer of materials between stations to rely on the stepping manipulator or robot to complete..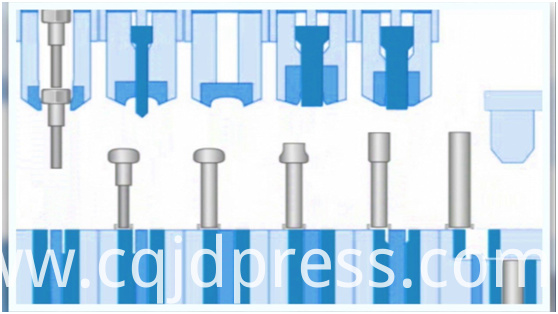 Applicable fields:
Multi-Station Automatic Extrusion production line includes: feeding mechanism, conveying and testing sorting device, slide and turnover mechanism, multi-station Extrusion Hydraulic Press, multi-station mold, mold changing manipulator, lifting device, lifting arm, unloading robot and other devices.
The production line strokes can reach 7-9Spm.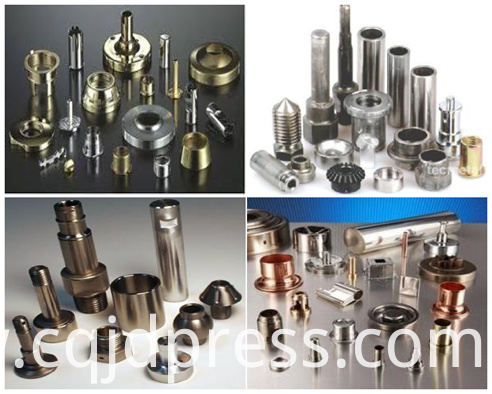 Specification:
Model

Unit

YJK61M-SF1000

YJK61M-SF1600

Capacity

KN

10000

16000

Return force

KN

100

1500

Max.pressure of liquid

MPA

25

25

Slider stroke

MM

800

1000

Open height

MM

2100

2400

Speed of slide

Rapid down

MM/S

600

600

Press

MM/S

50-100

60

Return

MM/S

600

600

Worktable dimension

L-R

MM

1300

1650

F-B

MM

1300

1500
Certificates: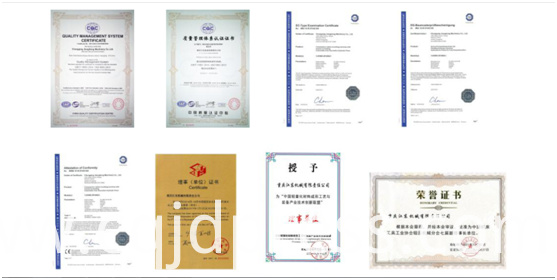 Configurations of main components:
| | | | | | |
| --- | --- | --- | --- | --- | --- |
| Name | Brand | Configuration | Name | Brand | Configuration |
| Circuit Breaker | Schneider, France | O | Security Light Curtain | SENSORC, China | O |
| Thermal Relay | Schneider, France | O | Motor | Quality product, China | O |
| Intermediate Relay | Schneider, France | O | Oil Pump | Quality product, Taiwan | O |
| Power Source | Schneider, France | O | Hydraulic Valve | Taifeng | S |
| Button | Schneider, France | O | Sealing Element | NOK, Japan | S |
| Time Relay | SIEMENS, Germany | O | PLC | MITSUBISHI, Japan | O |
| Transformer | Bright, Wuxi | O | TPC | MCGS, China | O |
Notes: S stands for standard configuration, and O stands for optional configuration
Forming solution:
Jiangdong machinery has been committed to understanding and matching customer needs, to provide customers with a "one-stop" overall solution, has become the pursuit of Jiangdong machinery goal. Therefore, Jiangdong machinery in addition to be equipped with high precision in hydro-forming equipment, safer, more reliable, and to hydro-form equipment production line automation, intelligent, flexibility, gather the automotive light weighting forming technology research and development, and in material, forming technology, mould, fixture, constantly explore accumulating core technologies such as a "turnkey" project, And to ensure that the production efficiency, forming accuracy, processing costs and other aspects of comprehensive competitiveness, and customers to achieve win-win, mutual benefit, common development.
Technical support:
Jiangdong Machinery as a customer to provide a full range of technical support is obligatory responsibility. Technical support includes pre- and after-sales support. Pre-sales technology is mainly used to fully identify the material, process, mold and equipment requirements of the customer for the production of product parts, and to achieve an organic combination, so as to improve efficiency, control quality and reduce operating costs. After-sales technical support includes operation and maintenance training, equipment maintenance items and requirements, so that customers can fully and efficiently use the equipment functions. Each customer can take advantage of our online technical assistance, submit questions and requests, and receive responses in real time.
Spare Parts:
When the Jiangdong machinery products leave the factory, according to the structure or feature of the equipment, equipped with regular wearing parts and spare parts; When the equipment needs to be replaced with spare parts, Jiangdong machinery purchases from our partner suppliers to ensure that each customer can recover the spare parts needed for the operation of the equipment in a very short time, whether within or outside the warranty period.
Maintenance:
Jiangdong machinery attaches great importance to the maintenance of products purchased by users, and quickly solves the equipment problems through our offices or partners around the world.
Remote service:
Through the Internet, under the premise of customer authorization, Jiangdong machinery can understand the status of customer equipment and provide remote diagnosis and service, without requiring our engineers to the plants for maintenance or modification of procedures, so as to shorten service time and achieve rapid response.
Training:
Training is also one of most important services for us. Train equipment operation and maintenance personnel for customers. The training content includes equipment operation principle, operation rules, safety key points, maintenance items and plans, major troubleshooting and other contents. The training site is usually the customer equipment installation plant. Through training, customers can fully understand the use and maintenance equipment.
Company Overview
Chongqing Jiangdong Machinery Co., LTD. (hereinafter referred to as "JD machinery") is a comprehensive forging equipment and parts manufacturing enterprise integrating R&D, production, sales and service of hydraulic press, lightweight forming technology, lightweight parts, cold and hot stamping dies, metal castings, etc. Among them, the company research and development of hydraulic presses and production line with advanced automation, intelligence, flexibility, at the same time, JD machinery to provide customers with all kinds of metal and non-metallic hydraulic forming complete sets of equipment and forming technology of integrated solutions, especially in the automotive lightweight components of precision forming technology and automatic complete sets of equipment research and development into line, form a core key technology and competitive advantage. JD machinery can design and produce 30 series, more than 500 varieties of hydraulic presses and complete sets of automatic equipment production line, product specifications from 50T to 8,000T, widely used in aerospace, new energy, automotive manufacturing, military equipment, shipping, rail transit, petrochemical, light industrial appliances, new materials and other fields. JD machinery took the lead in passing the ISO9001 quality system certification, and its products passed the CE safety system certification in 2012. Our products have been exported to Europe, America, Southeast Asia, Oceania, Africa, Japan, South Korea and other countries and regions. In 1937, the company`s predecessor was the Chinese government military manufacturing enterprise established; In 1966, develop and manufacture hydraulic technology type agricultural machinery; In 1978, began to produce, develop and manufacture hydraulic press; In 1993, Hydraulic press export to Southeast Asia, South Korea and other regions; In 1995, obtained ISO9001 quality system certificate; In 2003, become China`s important hydraulic press in the research and development and manufacturing base; In 2005, began to participate in the drafting and formulation of Chinese hydraulic press standards; In 2012, the hydraulic press passed the CE certification and began to export to Europe; In 2013, assemble automotive lightweight parts forming technology and complete set of equipment R&D; In 2018, began to relocate and expand the construction of new areas, and set up demonstration plants for lightweight auto parts;